Go Back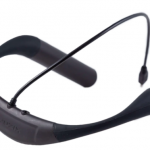 Blade Collar Power Bank
Part number:

447T0A006
The Collar Power Bank is a 2850 mAh battery designed specifically for Vuzix Smart Glasses. It offers ten times the battery capacity of Blade Smart Glasses for 10 hours of run time under normal operation. The battery is worn around the neck to comfortably and conveniently extend device usage. It also provides pass-through audio from the Vuzix Blade Model 447 to headphones. Note: Vuzix Blade Model 494 cannot use the pass-through audio.
$149.95
Buy Now,
Pay Later
Needing to deploy your smart glasses quickly? Our easy and flexible payment methods will assist you buying now and paying later. Sign up and approval can be completed in minutes.
Powered By
Get in Touch
If you have any questions regarding our products, solutions and services, please do get in touch and we will be happy to assist.
Contact Us